CSC Digital Seva Portal – Login, Kendra, Registration, Benefits, Services, Status and many other important details can be checked from here. Common Service Center (CSC) or Jan Seva Kendra is an online platform where people can apply for different government schemes through one platform.
What is CSC Digital Seva Portal?
The portal provides a platform to carry out several essential registration processes and other essential services concerning any state or central government scheme. The website offers many other services, like this portal, which can be used to download various government certificates. CSC provides a digital platform to assist people in their government scheme registrations with zero or poor internet accessibility.
CSC provides the services with minimal fees and makes the process more accessible to the beneficiaries. This is because it is generally opened in rural areas with VLE (Village Level Entrepreneur) certificate. Also, these centres remove the hassle of standing in long queues and pleading with any official to help them complete their registration process. The CSC platforms allow Indian Citizens above the age of 18 yrs to open their CSC centres. Nowadays, every village or small town has at least one CSC centre.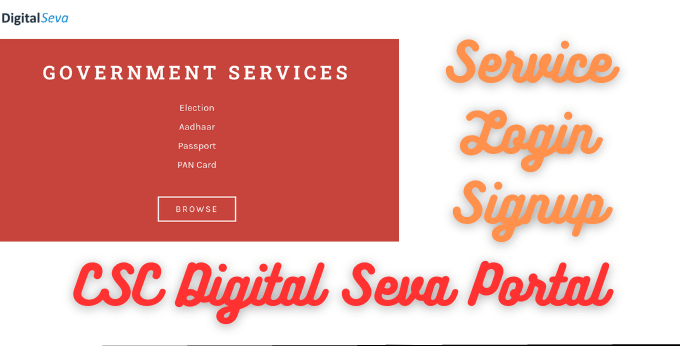 Objective and Types of CSC Digital Seva Portal

 
Objective 
The main objective of the CSC portal is to provide the benefit of government services to rural areas where Internet access is not as per par. The portal was launched with the main objective of making government schemes available for all. This portal was established to provide the public with a platform where they can easily avail of the services offered by the government at a very minimal price. Also, another importance of the CSC portal is that it will help fulfil the Prime Minister's motto to make India self-sufficient in carrying out their services and Digital. Some of the objectives of the portal are listed below:
Establishing a network of independently operating Digital Seva CSC Portals in at least 2.5 lakh Gram Panchayats throughout India.
Fostering rural business ventures.
Giving the VLEs their fair share of the profits and safeguarding their survival.
Encouraging female VLEs.
Delivering a broad and varied selection of G2C e-services from a single platform.
Serving the private sector for many reasons.
Encouraging government-run social assistance initiatives.
Establishing new rural jobs

 
Types
Three types of CSC digital Seva Kendra registrations are available for Indian citizens only.
CSC Village Level Entrepreneur (VLE)
Self-help group (SHG)
Rural Development Departments (RDD)
Services provided by CSC Digital Seva Portal 
CSC Digital Seva UIDAI Services
Residence address change

Email update

Aadhaar update and correction

Mobile number update and print
CSC Digital Seva Banking Services
NPS

CSC Benefit Account Plan NPS Service

New accounting opening

CSC bank bc Registration Process

Aadhaar UCL Registration 2020

CSC Economic Census Services

Common Service Centre Banking Portal / Bank BC

ICICI and Axis Bank BC

HDFC and SBI BC

CSC Locator

VLE CSC Profile Update

CSC certificate download

Digital Services Portal CSC

CSC Insurance Service

Loan Service CSC

Car loan

Credit Card

CSC Digipay Aadhaar Atm Latest Version
Common Service Centre CSC Financial Services
Banking – Rd, Fd, Money Transfer, eKYC

Skill developmen

Skill development

CSC as A GST Facility Provide

CSC VlE Market – Rural E-Commerce Ventur

Insurance Service

Pension services

CSC Rural E-Store

Prime Minister Crop Insurance Scheme (PMFBY)
CSC Digital Seva Portal – Agriculture Services
PM farmer list

PM Kisan New Farmer Registration

CSC Pm Kisan Correction Edit Aadhaar Card Details

Common Service Centre Pm Kisan Bank Account Update Form Download

Pradhan Mantri farmer beneficiary status
Educational Services Under CSC Digital Seva Portal
CSC Olympiad

Introduction to GST

Cybergram scheme

Learn English

Learn English

Legal Literacy Program

NABARD Financial Literacy Program

Skill center

CSC Academy

CSC BCC Course

CSC Topper Service

CSC Olympiad

Introduction to GST
CSC Digital Seva Health Services
Telemedicine – Telehealth Consultations

Tele-Medicine Remote Diagnostic Kit- Control H

CSC Registration Status

Pradhan Mantri Jan Aushadhi Store Scheme

CSC Diagnostic Center

Thyrocare

3 Nehtra Kits and Health Homeo
CSC Digital Seva Portal Services
CSC Locator

CSC Services State Wise

CSC banking portal/Bank BC

CSC economic census services

Apply to CSC Centre online

District manager's mobile number

PM Kisan's beneficiary status

Pradhanmantri Kisan list

CSC pm Kisan bank account update form download

CSC pm Kisan correction edit Aadhar Card detail

Bihar lok shikayat nivaran Adhikari adhiniyam

Bihar Shauchalay offline for

CSE insurance service

All state self-help group lists with the self-help group ID

Lohiya swachh Bihar abhiyan

Mahatma Gandhi Seva Kendra pariyojna

Loan service CSC
CSC Digital Seva Customer Services
Mobile Recharge

Mobile bill payment

Lohia Clean Bihar Campaign

Bihar Public Grievances Redressal Officer Act

Bihar Toilet Offline Form

Mahatma Gandhi Service Center Project

All-State SHG List with SHG ID

CSC registration status

CSC service State wise

D2H Recharge
Services Provided Under CSC Digigaon Yojana
Awareness campaign

Skill service

Baseline survey

Solar power

Digital health service

Education service

Training program
CSC Digital Seva Portal Overview

 
Portal Name

CSC Digital Seva Portal

Launched by

Government of India

Year of launch

2022

Beneficiaries

Citizens of India

Category

Government Portal

Type of Services provided by the Portal

Government & Non-Government Services

Services provided

Education

Health care services

Skill development

Banking and Bill payments 

Types of CSC portals in operation

CSC-VLE

Self-help Group

RDD

Objective

To Provide Various Kinds of Online Services easily accessible to everyone.

To make the registration processes easily available to people with poor internet accessibility. 

Official Website

https://register.csc.gov.in/

Toll-Free Number 

18001213468

Email Id
How to locate the nearest CSC centre

 
It has been reported that currently, there are 2.6 lakh VLEs operational in India, and it offers services to approximately 3,462 CSC centres across India. To locate the nearest service centre, one needs to follow the following steps:
 Step 1: Visit the Common Service locator website using the link provided https://www.apnacsconline.in/csc-locator/#:~:text=Locate%20Common%20Service%20Center%20(CSC,Common%20Service%20Centers%20in%20State.
Step 2: Now fill in the address details like State, district and block as requested on the website.
Step 3: After entering all the details, the list of CSC centres and VLEs available in the desired location will appear along with their CSC IDs and contact address.
CSC Digital Seva Portal Registration process

 
Requirements
To open a CSC centre in a locality, one needs to fulfil specific requirements, which can be classified as eligibility, document requirement, and system requirements.
Eligibility
Must be an Indian citizen and at least 18 years old.
Must have completed matriculation.
Must have a valid and operational mobile number.
Should be residing in the desired location to open a CSC centre.
Must have completed TEC – Telecentre Entrepreneur Course (TEC).
For enrolment in SHG, the person needs to have an enrolment code to prove their selection in an SHG.
Document Requirements
Aadhaar card
Educational Qualification Certificates
PAN card and copy of PAN card
Bank account details
Passport size photograph
10th pass mark sheet
Email Id and Mobile number
Residence proof
Other requirements
Installing KIOSK services is required and must be available from 8 AM to 8 PM.
The Centre should have all it needs to satisfy all end-user needs and offer all required services.
It is necessary to choose centre administrators responsible for ensuring that the KIOSK is conveniently accessible and that all services are efficiently provided.
Each Digital Seva CSC Portal centre is required to have the following items on hand:
2 or more machines with legally licenced operating systems
A 500 GB hard disc, 1 GB of RAM, and other top-tier features
Digital camera printer and scanner
CSC Registration Process

 
To complete the registration process on the digital seva portal, all required documents should be handy. To begin with, the process, follow the steps mentioned below:
Step 1: Visit the official page of the CSC portal by following the link https://digitalseva.csc.gov.in/
Step 2: Now scroll down to the bottom of the page, and find and click on the option Registration under the heading CONNECT.
Step 3: A new page will appear consisting of the option of VLE registration. Now click on 'Click here to register'.  
Step 3: The user will be directed to a new page. Here select the application type amongst the available option. Depending on your format and the alternatives shown in the list, you can choose CSC VLE if you are an individual or another option.
Step 4: After selecting, enter the mobile number and the captcha provided below. Then click on the submit option. 
Step 5: Now, an application form will appear. Fill in all the necessary details, such as Email Id, name, address, bank account details, and other details. Then click on Next.
Step 6: Now the applicant will have to provide more details regarding the bank account like IFSC code, branch name, and others 
Step 7: Now, the applicant will be required to upload all the documents asked for, like PAN card, Aadhaar card, 10th mark sheet and bank account passbook. Then click on Next
Step 8: Some more details are required to be filled in for registration. Check all the information provided, and make sure of accuracy. Now click on Submit.
The user can apply for a CSC account by following the steps provided.
Procedure to check the Application status
Step 1: Visit the CSC digital website's main page. Service Kendra
Step 2: The Homepage will load before you.
Step 3: You must select Track Application from the homepage's menu.
Step 4: You will now see a new page where you must input your application reference number and captcha code.
Step 5: The application progress will appear on your computer screen once you click "submit."
CSC Digital Seva Portal Login 
CSC Digital Seva Portal Login is required to complete the services asked by the customers. For this, the user needs to remember his login Id and password; only then his official account will be available to complete the task. Follow the following steps to log in to your Digital Seva account:
Step 1: Visit the official page for login on the Digital Seva portal using the link https://connect.csc.gov.in/account/authorize?response_type=code&client_id=0f8ca686-5a31-46b8-bb51-d9834ba9fa9d&redirect_uri=https%3A%2F%2Fdigitalseva.csc.gov.in%2Fauth%2Fcallback%2F&state=89120
Step 2: Enter the credentials and captcha on reaching the page.
Step 3: Now click the Sign In button.
The user will get access to their CSC account by following the steps provided above. 
Benefits of CSC Digital Seva Portal

 
Citizens have access to secure and accurate information.
Provides easy access to services at a nominal cost to rural people.
All essential services are provided under one roof in rural areas.
Has provided employment sources to many women.
Helps in the promotion of government schemes.
More News: Click Here
Official Website: Click Here
Frequently Asked Questions
What is the minimum educational qualification to open a CSC centre?
The minimum qualification required is that the applicant must have passed his matriculation.
How can I find a CSC centre near my village?
The person can find the CSC centre using the CSC locator page.
What is meant by a Self-Help group, and what do they do?
A self-help group is a group of 10 to 20 persons who volunteer to assist those in need in a particular location. Together, they try to improve community members' living standards and participate in local community activities.
What does CSC VLE do?
Village-level entrepreneur providing customers with a range of public and private services through a CSC outlet