Who is Amritpal Singh & What did he Do? – His Family & Story: The Khalistani leader Amritpal Singh was not famous a couple of months ago. Yet he is currently the most wanted criminal in Punjab. During a 25-kilometre police chase, the hardcore Sikh separatist activist vanished from people's eyes in Punjab's Jalandhar area on March 18.
Who is Amritpal Singh?
The 30-year-old leader of Waris Punjab De (heirs of Punjab) reportedly moved into neighbouring Haryana state after that, changing vehicles and appearing in different places along the way. This article will provide detailed information about Khalistani separatist Amritpal Singh, his family life and political experiences.
What did Amritpal Singh Do?
Amritpal Singh is also called "Bhindrawale 2.0" in the religiopolitical circles of Punjab. This title is given to him due to his ideas of creating a separate nation for Punjab and separating it from India.  He claims himself to be a follower of pro-Khalistan militant Bhindarwale.
He is the head of the organisation Waris Punjab De, an organisation founded to fight for social justice and preserve Punjab's cultural and water rights. Amritpal Singh joined the organisation in 2022 and turned it towards Khalistani ideas.
Why is Amritpal Singh in news?
Amritpal Singh caught the national eye after a sizable mob of supporters assaulted Ajnala police station outside Amritsar in February. They stormed in, brandishing swords and using the Sikh holy book as shields. They forced the authorities to guarantee the release of his main aide, Lovepreet Singh, who was accused of kidnapping.
Following the incident, police officers of Ajnala station gave testimony in favour of Lovepreet, which led him to be set free. The event garnered news and gave Amritpal a platform to make statements. In these platforms, he started encouraging an armed uprising against democratically elected governments pursuing "Khalistan's" ultimate goal.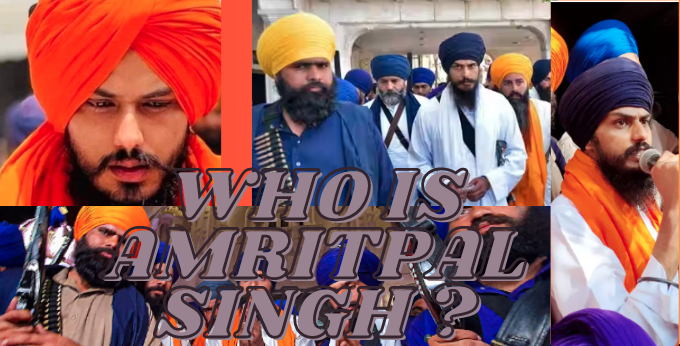 The most recent complaint against him was filed under the Arms Act. After a considerable firearms arsenal was retrieved from Amritpal Singh's assistants. According to official sources, he has kept tight ties with various terrorist organisations headquartered abroad and Pakistan's ISI intelligence agency.
The Khalistani commander is thought to be connected to the Khalistani terrorist Avtar Singh Khanda, who resides in the United Kingdom. He is seen to be a significant contributor to his ascent to notoriety. He is accused of assembling a "private militia" of young people from drug rehabilitation facilities for use in violent rallies. Additionally, it is claimed that illegally obtained weapons from Pakistan were stored at the deaddiction centres.
What is Waris Punjab De?
Punjabi lawyer turned actor turned activist Dep Sidhu started the Waris Punjab De organisation. He started the organisation after his bail from the Red Fort case in 2021. The organisation aimed to fight and save the social rights of Punjab. Deep Sidhu had started a chat group on Instagram to share their thoughts on issues in Punjab.
Amritpal Singh joined this chat group and began sharing his ideas about creating a separate nation for Punjab. The then leader of Waris Punjab De, actor Deep Sidhu did not like the Khalisatani ideas. He ultimately blocked Amritpal Singh from the chat group.
Deep Sidhu's brother claimed that after the actor's death, Amritpal Singh illegally positioned himself as the head of Waris Punjab De. He has also stated that Amritpal has changed the outfit of the organisation started by Deep Sidhu.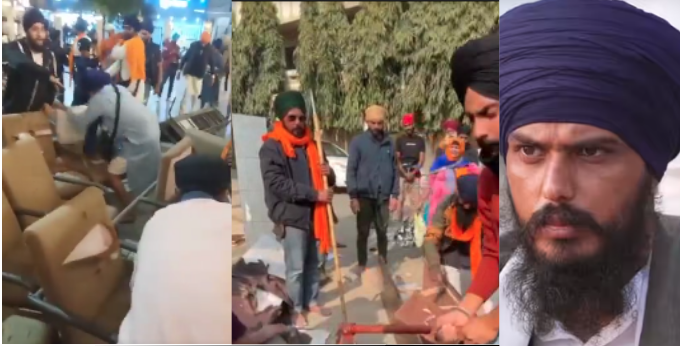 Amritpal started to share pro-Khalistan ideas on the platform, and Khalistan supporters rapidly joined the organisation. In December 2022, members of Waris Punjab De set the items of furniture of a gurudwara on fire. The incident happened under the leadership of Amritpal Singh.
The incident occurred in Biharipur village gurudwara in a view to protest against the seating arrangement. Amritpal and his supporters did not like the seating arrangements in Punjab. They were against the idea of keeping chairs for the people who could not sit on the floor.
He was of the view that keeping chairs in a room where the holy book is placed is disrespectful. Further, he believed it was against the codes of conduct and conventions of Sikhism.
History and Family of Amritpal Singh
Amritpal Singh was born in Jallupur Khera Village of Amritsar District in Punjab on January 17, 1993. He had enrolled himself in a polytechnic college in Kapurthala, Punjab. But did not complete the course and moved to Dubai. In Dubai, he joined the family transport business.
His family includes his father, Tarsem Singh, mother, Balwinder Kaur, twin sister, elder brother and wife. It was reported that he got married to a UK-based NRI physiotherapist Kirandeep Kaur on February 10, 2023. he was not an orthodox Sikh before August 2022. He later got baptised to the orthodox Sikh customs in September 2022. Since then, he has copied the look of slain khalistani militant Bhindrawale.
Latest update on Amritpal Singh
Ever since the Punjabi fugitive has been on the run, the Punjab Police have been striving hard to catch the criminal. After some of his unconstitutional acts, the Punjab government and the Central government joined hands to catch the Khalistani leader. The Punjab Police, with orders from the Central government, cracked down on Amritpal Singh. But due to the presence of a massive crowd and the help of his supporters, Amritpal Singh managed to flee from the police.
The separatist leader Amritpal has been evading capture since March 18; the Punjabi government has begun a huge manhunt for him. From the time he is hiding, his family suspects the Punjab police. They are of the opinion that Amritpla Singh is under the captivation of the Punjab Police, who might encounter him.
On the other hand, Punjab police ha completely denied this allegation. Seven of his aides have been arrested by the police, and NSA (National Security Act) has been evoked against all of them.
The Indian Embassy has provided the Punjabi fugitive's picture and all of his information to the Nepal embassy. The Indian government has also warned Nepali authorities that Amritpal Singh may attempt to leave Nepal for a third nation using either his legitimate passport or a false passport. It is also made clear that the arrest of Amritpal Singh is of utmost importance for India. NSA has also been evoked against the fugitive Khalisatni leader.
Thanks for visiting our website. Please visit our website ATRIA University for the latest news and updates on different fields.