India ranks 136th position on World Happiness Index 2023 List. Know the country-wise rank and the happiest country in the world. Read the article for complete information on World Happiness Index 2023 Country Wise Rank [Updated List].
World Happiness Index 2023
World Happiness Index utilises information from global surveys to demonstrate how people rate their lives in more than 150 countries.  The World Happiness Index 2023 Report will commemorate the tenth anniversary of Globe Happiness Reflect. The COVID-19 pandemic has wreaked havoc for two years. The pandemic time period caused several mental problems like depression and anxiety among people. It was not until 2022 that people's lives returned to normal.
Now that life returned to normal, the pandemic has taught us to give, remain socially updated and extend help to the needful. Therefore, it is time to calculate how people worldwide will rank their lives; for this, the World Happiness Index Rank list 2023 for 146 countries is prepared.
Rank-Wise World Happiness Index List 2023
The rank-wise list of  countries of the top 100 ranks, along with their Happiness Index range, has been presented below: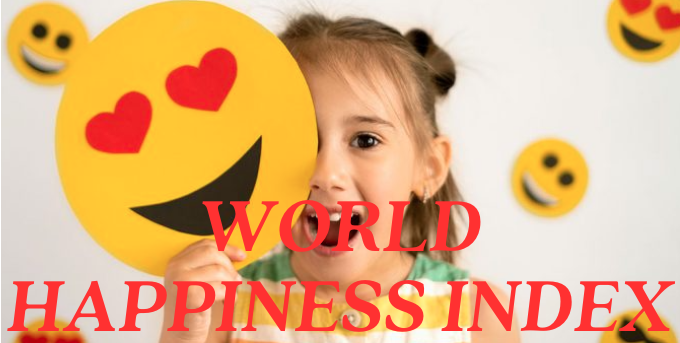 Rank order
Country
Happiness Index Range 2023
1
Finland

Between 7.842-7.069

2
Denmark
3
Switzerland
4
Iceland
5
Netherlands
6
Norway
7
Sweden
8
Luxembourg
9
New Zealand
10
Austria
11
Australia
12
Israel
13
Germany
14
Canada
15
Ireland
16
Costa Rica
17
United Kingdom
18
Czech Republic

Between 6.965 and 6.012

19
United States
20
Belgium
21
France
22
Bahrain
23
Malta
24
Taiwan
25
UAE
26
Saudi Arabia
27
Spain
28
Italy
29
Slovenia
30
Guatemala
31
Uruguay
32
Singapore
33
Slovakia
34
Brazil
35
Mexico
36
Jamaica
37
Lithuania
38
Cyprus
39
Estonia
40
Panama
41
Uzbekistan
42
Chile
43
Poland
44
Kazakhstan
45
Romania
46
Kuwait
47
Serbia
48
El Salvador
49
Mauritius
50
Latvia
51
Colombia
52
Hungary

Between 5.992 and5.025

53
Thailand
54
Nicaragua
55
Japan
57
Portugal
56
Argentina
58
Honduras
59
Croatia
60
Philippines
61
South Korea
62
Peru
63
Bosnia And Herzegovina
64
Moldova
65
Ecuador
66
Kyrgyzstan
67
Greece
68
Bolivia
69
Mongolia
70
Paraguay
71
Montenegro
72
Dominican Republic
73
Belarus
75
Hong Kong
74
Russia
76
Tajikistan
77
Vietnam
78
Libya
79
Malaysia
80
Indonesia
81
Republic of the Congo
82
China
83
Ivory Coast
84
Armenia
85
Nepal
86
Bulgaria
87
Maldives
88
Azerbaijan
89
Cameroon
90
Senegal
91
Albania
92
North Macedonia
93
Ghana
94
Niger
95
Turkmenistan
96
Gambia
97
Benin
98
Laos
99
Bangladesh
100
Guinea
4.984
Finland has topped the list and is regarded as the happiest country in the world. India has gained the rank of 136.
World Happiness Index Evaluation 2023
The Global Contentment Report is a measure of overall satisfaction, according to the World Happiness Index. The rankings are also based on publications about national happiness and reports of people's evaluations of their personal lives. In contrast to other factors that affect the overall quality of life, the study. Based on variables such as GDP, life expectancy, and other measures of quality of life, it assigns rankings to 150 nations (and 146 in 2023). In 2023, the researchers have considered factors like how people of a country are coping with the post-COVID scenario and the scientific advancements made by the country to provide a sustainable future.
World Happiness Index Highlights 2023
The World Happiness Index 2023 is an annual report released by the Sustainable Development Solutions Network.
The World Happiness Report has ranked Finland as the happiest country in the world for the fifth consecutive year.
The report mentioned that Russia has dropped in its ranking in the list this year, which shows decreased happiness.
The rating, which is in its eleventh year, determines a score between 0 and 10 using a mathematical formula and the average of data collected over three years.
Afghanistan has ranked last in the list of 146 countries, and this clearly shows that the country is facing a terrible year. It can also be observed from the Happiness Index score of the country, which is at 2.523.
World Happiness Index of India 2023
In the 2023 report, India has ranked 136th in terms of overall happiness. This year India secured a 3.819 Happiness Index for the population of 1,406,631,776 people. The 9th World Happiness Report's rating of the world's happiness categorisation for 156 nations in 2021 has placed India at 139th position. In the 2020 ranking, India was ranked 144. From India's previous year's rank graph, it can easily be observed that our nation is moving up the Global Happiness Index rankings.
Top 5 Countries of World Happiness Index 2023
1. Finland
The top-ranked nation for 2023, according to the Global Happiness Rank List, is Finland, which has held that spot for over ten years. The report states that Finland's average life expectancy, i.e. the Happiness Index is 7.842 years out of a possible 10. According to the analyst's reports and assertions, Finland responded forcefully to the COVID-19 period. The analysts further stated that the citizens of Finland are very responsive towards their civil duties and are very honest towards each other. There was little doubt among Finland citizens in their government's honesty, and they held a firm conviction in their ability to make their own decisions.
2. Denmark
According to a global list of countries' happiness in 2023, Denmark is ranked second.  It was further reported that Denmark citizens' average life expectancy (Happiness Index) is 7.62 out of 10. According to the list, Denmark's culture also makes it the second-ranked nation in the world. In Denmark, people have significant responsibility for one another's welfare. Denmark citizens possess close relationships and contacts among the citizens inside the nation. These are the possible reasons for the good rank of the country in the list.
3. Switzerland
Switzerland has ranked third in the list, with a Happiness Index score of 7.571. The analysts have stated that the citizens of Switzerland have extraordinarily generous hearts and a deep understanding of the needs of others they come into contact with. This is one of the factors that contributed to this nation's prosperity and third rank.
4. Iceland
Iceland has ranked fourth in the list, with a Happiness Index score of 7.554. Healthcare costs are higher than in other nations. Individuals in this nation are well-groomed and aware of one another's feelings, so they can recognise happiness. Iceland has a more robust healthcare system than other nations. It was reported in the Happiness Index report that a significant portion of the nation's population has access to high-quality medical facilities. This is the main reason the country secured the fourth position on the list.
5. Netherlands
According to a global list of countries' happiness in 2023, the Netherlands has ranked fifth. It has secured a Happiness Index (the average life expectancy) of 7.464. The corruption-free government and charitable government policies are the main reasons that helped the country secure the fifth position in the Happiness Index list 2023.
Frequently Asked Questions
What is the Happiness Index rank of India in 2023?
India has ranked 136 on the list of 146 countries. The rank in 2023 improved from the previous rank of 139 in 2021 and 144th in 2020.
Why does India have a low rank in the Happiness Index List 2023?
India is near the bottom of the list. Several variables contributing to the low rank have been covered on this page. You should know that India's rising urbanisation, city congestion, environmental pollution, and other issues keep it from ranking higher.
Why Finland always succeeds in scoring the first rank?
There are various reasons which can be attributed to the first rank of Finland. Some of these are the country's trust in the government and each other; and the country's strong retaliation to COVID-19.
Why has Afghanistan ranked last in the Happiness Index 2023?
The ongoing humanitarian crisis brought on to the country due to the Taliban's taking back power and laying several impositions on the lifestyle of citizens. Furthermore, the country's residents are facing issues of unemployment and poverty. All these factors cause severe pressure on the mental health of citizens, thereby making them unhappy.
Thanks for visiting ATRIA University. Please keep visiting our website for more information regarding various exams and other fields of interest.