The article will provide PSU Recruitment Through GATE 2023, the latest vacancies announced, and the Application Form filling process details.
PSU Recruitment Through GATE 2023
PSU Recruitment through GATE 2023 was announced by several PSUs, some of which are NTPC, HCL, OHPC, MPMKVVCL, NBCC, NHPC, BSNL, and others. The organisations have announced vacancies for posts like Graduate Trainees and Executive Trainees in various disciplines like ME, CS, EE, and others. Typically, GATE scores are used as the foundation for hiring in various PSUs. Each organisation will disclose the particular scores for recruiting candidates. However, all applicants must have qualified in the GATE with the necessary cutoff. Gate scores are considered unbiased; therefore, this recruitment process provides a more fair means of recruitment. Read the entire article for more information on PSU Recruiting through GATE 2023.
PSU and GATE
PSUs, also termed Public sector undertakings, are government-owned corporations where the central government holds more than 51% of shares. PSUs offer a large sector of jobs ranging from engineer posts to clerical posts. These corporations recruit candidates based on GATE rank and marks. Some famous PSUs in India are ONGC, HPCL, NTPC, BHEL etc.
Graduate Aptitude Test in Engineering, or GATE, is an all-Indian test administered by any former IIT or IISc. Anyone can enrol in an M.Tech programme at any college in India, including IITs and NITs. Candidates can even choose to get recruited by a PSU that hires through the GATE Test. In this article, we will provide detailed information about the upcoming PSU vacancies, the application process and other related information about PSU.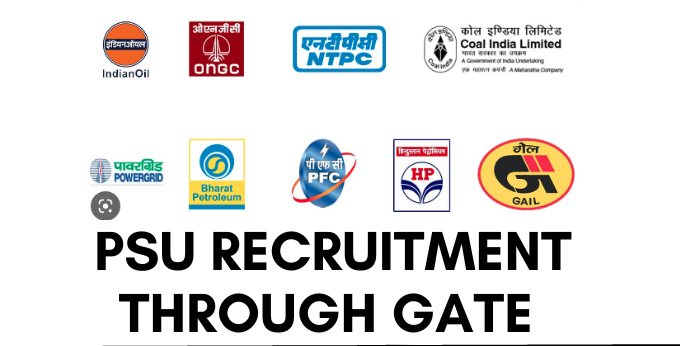 PSU Recruitment Through GATE Process 2023
Each PSU releases its own notification regarding the PSU recruiting through GATE 2023 process. Candidates can check the information on the application procedure, job openings, GATE via PSU Salaries, and the selection process here.  After the publication of the GATE admission card, the majority of the GATE 2023 PSU employment application procedure began. Only the most recent year's score will be accepted for some GATE PSU recruitments; however, prior years' scores will also be accepted in other cases. Although some PSUs may additionally administer admission exams, hold focus groups, and conduct interviews, the selection process will be based on GATE 2023 scores. On February 4, 5, 11, and 12, GATE 2023 was held.
Different Types of PSUs
The Public Sector Undertakings in India are divided into three categories, which are Maharatnas, Navratnas and Miniratnas. This categorisation is based upon various factors related to the financial growth and performance of the PSU. It is reported that there are around 250 PSUs in India, and some of these PSUs are recruited directly through the GATE exam. A list of some PSUs recruiting through GATE is provided below:
| | | |
| --- | --- | --- |
| S.NO. | Name of the PSU | Category |
| 1 | ONGC Recruitment through GATE | Maharatna |
| 2 | NTPC Recruitment through GATE | Maharatna |
| 3 | BHEL Recruitment through GATE | Maharatna |
| 4 | WAPCOS Recruitment through GATE | Miniratna |
| 5 | POSOCO Recruitment through GATE | Maharatna |
| 6 | BHEL Recruitment through GATE | Maharatna |
| 7 | BEL Recruitment through GATE | Navratna |
| 8 | IOCL Recruitment through GATE | Maharatna |
| 9 | NLC Recruitment through GATE | Miniratna Category 1 |
| 10 | HPCL Recruitment through GATE | Maharatna |
| 11 | GAIL Recruitment through GATE | Maharatna |
| 12 | BDL Recruitment Through GATE | Miniratna Category 1 |
| 13 | SJVN Recruitment through GATE | Miniratna Category 1 |
| 14 | RCFL Recruitment through GATE | Miniratna Category 1 |
| 15 | PGCIL Recruitment through GATE | Maharatna |
Several PSUs recruits GATE-qualified students to their various posts based on the scores secured by them in the exam.
PSUs Recruiting Through GATE List 2023
Some Public Sector Undertakings recruiting candidates through the GATE score, and the number of vacancies and type of posts announced are listed below
Name of PSU
Application Date
Number of Posts
Discipline
HPGCL
To be announced
201
Electrical, Mechanical, and Civil
Power Grid
January 16- February 18
To Be Announced
ET (Electrical)/ET (Electronics) ET (Civil)
ODISHA POWER TRANSMISSION CORPORATION LIMITED
To be announced
31
Electrical Engineering
NMDC
To be announced
Electrical- 10

Materials Management – 25

Mechanical – 14

Mining – 18

 Materials Management, Electrical, Mechanical,

GAIL
February 14- March 15
100+
Chemical, Electrical & Instrumentation, Chemical Technology, Petrochemical Technology, Petrochemical, Electronics & Instrumentation, Electrical & Electronics, Instrumentation, Instrumentation & Control,  Electronics
IOCL
To be announced
NA
B Electrical, B.Tech/ B.E in Chemical, Instrumentation, Civil, Mechanical
KIOCL Limited
To be announced
25
Mechanical/Metallurgical, Electrical/Electrical and Electronics, Electronics & Communication/ Instrumentation & Control, Electronics & Communication/ Computer Science, Mining
NHPC Limited
To be announced
Civil – 30

Mechanical-21

Civil and Mechanical
NHAI
To be announced
41
Civil Engineering

AAI
December 22- January 21
596
Civil/ Electrical/Electronics/ Telecommunications/ Electrical with specialization in Electronics / Architecture
NTPC Limited
To be announced
280
Mechanical, Electrical, Electronics, and Instrumentation
NALCO
To be announced
120
Mechanical, Electrical, Metallurgy, Electronics, instrumentation Engineering
PSPCL

To be announced
111
Electrical & Electronics/ Civil Engineering/ Engineering/ IT Electrical/ Computer Science/
Haryana Power Utilities

To be announced

107

Electrical & Electronics, Electronics, Mechanical, Electronics & Electrical, Communication, Electronics & Communication, Civil, Electrical
SAIL
To be announced
399
Mechanical, Chemical, Electrical, Mining, Metallurgy, Instrumentation,
POSOCO
March 21- April 20
NA

Power Engineering (Electrical)/Electrical/ Electrical and Electronics/  Electrical (Power)/Power Systems/Computer Engg. Engineering/ Computer Science/
BSNL
To be announced

198
Civil/Electrical Engineering
GATE-qualified candidates can refer to this list to learn about the vacancy details of various PSUs recruiting through GATE.
PSU Recruitment Eligibility 2023
GATE scores are the essential criteria for recruitment in various PSUs. The PSUs declare their cut-off in their advertisement. Candidates should score equal to or higher than the cut-off marks decided by the PSU. The candidates can be recruited directly based on the GATE score or can be called for further stages of selection. The PSUs can fix other eligibilities like age limit, experience, academic pass percentage, graduation CGPA, etc. Therefore, candidates are advised to visit the official website of the aspired PSU regularly to know the complete details of the eligibility criteria of the concerned institution.
PSU Recruitment Application Procedure 2023
The application forms for PSU recruitment will be an available online mode for most of the PSUs. Different PSUs will provide different dates for application beginning and ending dates. Candidates must go to the relevant PSUs' official websites to apply for their preferred positions with those PSUs. Applicants must complete the application form by providing personal, academic, and other details. Together with a signature, they must also include a picture of themselves. Applicants must also furnish their GATE registration number and other details needed on the GATE 2023 admit card because PSU recruitment will be done through GATE.
Frequently Asked Questions
How many PSUs recruit through the GATE exam?
More than 200 PSUs recruit their employees based on GATE scores.
Who are eligible to give the GATE exam?
Engineering graduates from various fields like Electrical/ Computer Science/ Computer Engg/ Chemical/ Mechanical/ Civil and other fields.
What academic qualifications are needed to be hired by PSUs through GATE?
A B.E./B.Tech degree is required for PSU recruitment through GATE.
Will a PSU hire me after I pass the GATE?
A few PSUs offer direct hiring based on GATE results. Some PSUs hold tests and interviews.
What is the average salary range provided by PSUs?
The salaries provided by PSUs are different for different corporations. The salary may range between 20,000-1,80,000 depending on the post and financial situation of the corporation.
What are the complimentary perks provided to a PSU employee?
PSU hiring entails a number of benefits, including access to healthcare services and housing stipends. Depending on the manager, additional benefits (international travel, extra time off, and more) might be available.
ATRIA University Team wishes all the best to all aspirants. Thanks for visiting our website; please visit our website for more updates on different fields of interest.